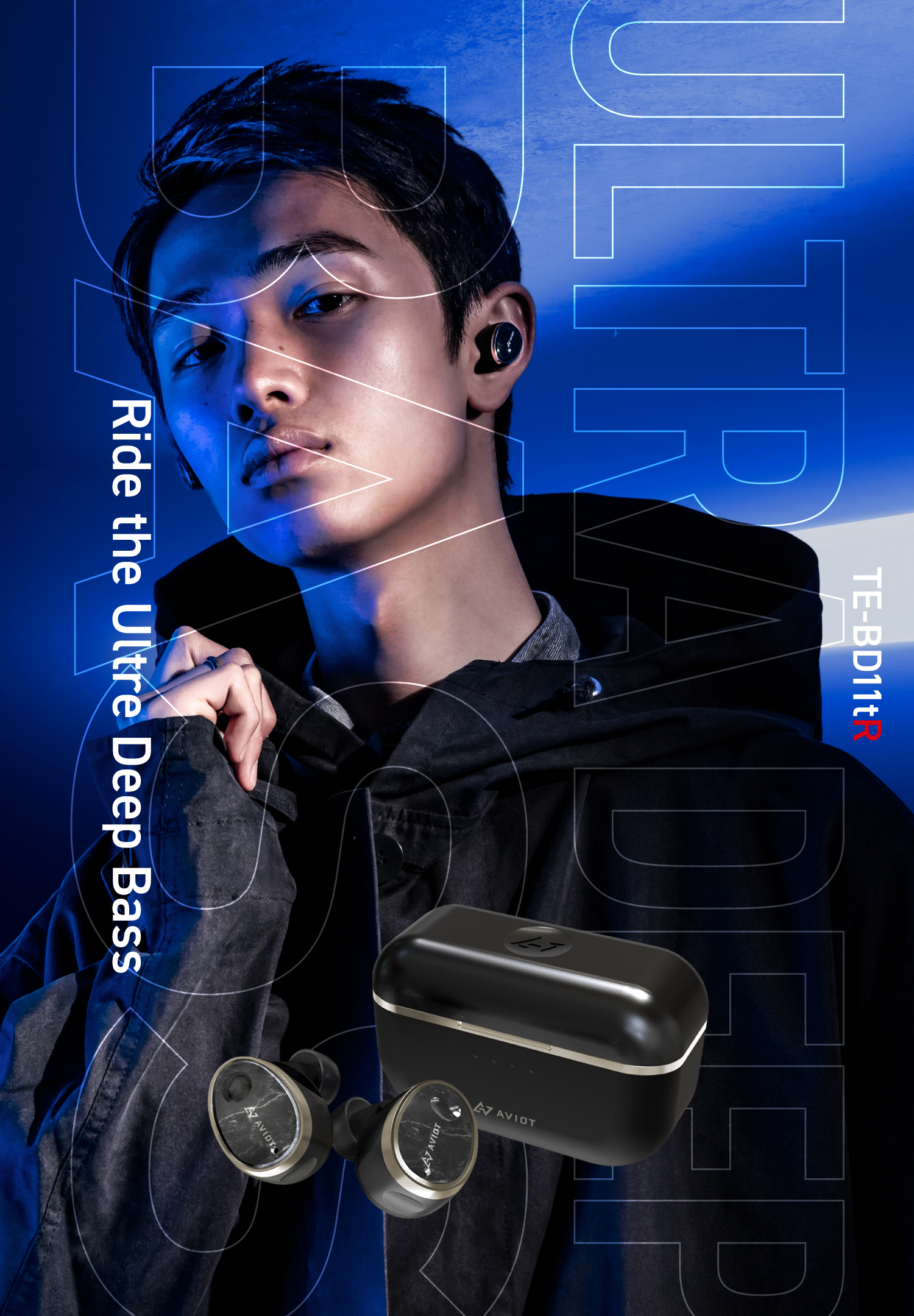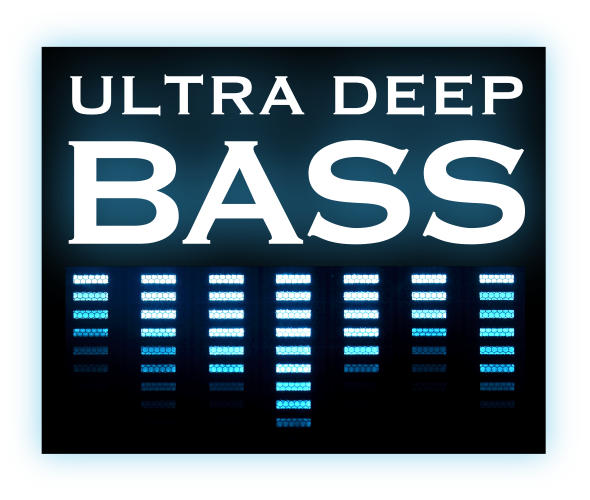 "ULTRA DEEP BASS" represents AVIOT's new idea for immersive deep bass that sinks in. While maintaining the power and expressive richness of the low frequencies, the mid and high frequencies are reproduced with clarity and naturalness, designed to provide a profound sense of immersion.
Balancing Power and Delicacy
with a Hybrid Dual Driver Configuration
To achieve immersive deep bass while pursuing delicate expression in the mid and high frequencies, AVIOT's "ULTRA DEEP BASS" incorporates a Hybrid Dual Driver configuration by combining two drivers with different characteristics. The dedicated 10mm dynamic driver, designed to express rich and powerful deep bass, and the Knowles balanced armature driver, designed to reproduce delicate and powerful mid and high frequencies, combine to create high-resolution and impactful sound. With the TE-BD11tR, we revisited the tuning of the previous model "TE-BD11t" from scratch, successfully maintaining the thickness of the deep bass while further enhancing the extension, resolution, and vibrancy of the mid and high frequencies. The result is a meticulous acoustic design and tuning that delivers the beat of music
Enhanced by Hybrid Active Noise Cancellation
Highlighting Rich Deep Bass
In addition to the hybrid active noisecancelling function that combines"feed forward" microphones to detect external noise and "feedback"microphones to detect noise within the ears, utilizing a total of fourmicrophones, AVIOT employs the unique ergonomic design and passivenoise isolation technology to physically block and reduce noise.
To achieve the "ULTRA DEEP BASS" experience, this model refines thenoise cancellation capabilities in the previous "TE-BD11t" model.
Thealgorithm applied here accentuates the rich, profound bass of the HybridDual Drivers.
It efficiently eliminates noise interference primarily within therhythmic spectrum of the music, while simultaneously addressing the wideranging low and mid frequencies often masked by ambient noise.
The outcome is an unprecedented level of immersion, setting the stage for anunparalleled auditory journey.
AVIOT's unique power-saving technology achieves a world-class continuous playback time of up to 18 hours* for the ear buds alone.
When used with the charging case, up to 60 hours* of playback time is possible.
Additionally, rapid charging of up to 120 minutes of playback with just about 10 minutes of charging is supported. *Playback time may vary depending on the operating environment.

Supports quick charging for up to 120 minutes of continuous playback on a 10-minute charge.
Individual Earbud ON/OFF Function
To Prevent Unnecessary Battery Drain
The earbuds can be individually turned ON/OFF without using the charging case.
By turning off the power when not in use, you can prevent unnecessary battery consumption and enjoy music for an extended time.
You also won't need to carry around the case.
Comfortable Fit for Extended Use
The meticulously crafted contours provide not only a secure fit during vigorous activities but also ensure comfort during extended periods of wear.
Furthermore, the heightened seal contributes to an immersive experience, allowing you to fully enjoy the standout feature of TE-BD11tR
Waterproof Against Rain and Sweat
It is IPX4 equivalent* waterproof against sudden rain, splashes, sweat, and other water damage. *Main body of earbuds only
Wireless Charging Function
for Cable-free Charging
Wireless charging is supported, so simply place it on your charging pad* to complete charging. You can power the device without the hassle of plugging in a cable. *We do not manufacture or sell wireless chargers.
High-quality Calls and Multi-point Connection
for Business Scenario
The highly sensitive call microphone provides up to 9 hours of talk time. Even during long online meetings, clear voice is delivered to the called party without worrying about running out of battery power.
In addition, it is equipped with a multipoint function that allows connection to two devices at the same time, such as a smartphone and a PC, or two smartphones. One device can be used for music playback and the other for phone standby, so you will never miss an incoming call from another device while music is playing.
Enjoy Music with Just One Earbud Single Ear Mode
The earbuds feature a Single Ear Mode that allows you to use just one earphone at a time.
When you power off the unused earphone or store it in the case, the audio switches seamlessly from stereo to mono playback.
This ensures a seamless experience when enjoying music with just one ear, without any discomfort
Hear Your Surroundings with a Single Touch Ambient Sound Mode
【Sound Collection Mode】
In addition to the traditional ambient sound mode that lets you hear your surroundings with a single touch, we've introduced the new "Sound Collection Mode," which captures and amplifies voices from a greater distance. This feature enhances your ability to clearly hear conversations even from afar. *AVIOT SOUND ME" application is required to use "Sound Collect Mode".
Spec
Basic Specifications
Driver

Hybrid type with φ10mm dynamic Type and balanced armature drivers

Built-in microphone for calls

Highly sensitive MEMS microphone

Battery capacity

Earphone in one ear 85mAh
Charging case 600mAh

Max call time

Up to 9 hours

Max continuous playback time

Earphone alone 18 hours
with Charging case 60 hours

May vary depending on the operating environment.
Charging time of the main body of the earphone

Approx. 1.5 hours

Supports quick charging for up to 120 minutes of playback on a 10-minute charge.

Charging port

USB Type-C

Waterproof performance

Equivalent to IPX4

Other

Wireless charging support
Bluetooth Specifications
Bluetooth version

5.2

Multi-pairing

8 devices
Supported codecs

AAC,SBC

Supported profiles

A2DP,HFP,HSP,AVRCP
Included thing
Silicon earpiece:S / M / L、Type-C Charging cable
User Manual, Product Warranty Registration Card
When using earpieces from other manufacturers, please make sure in advance that they will fit into the charging case and that the nozzle diameter is not too large.
Please note that we do not guarantee the performance or operation when using earpieces made by other companies.

Size M earpieces are pre-installed.
AVIOT sound me
10-band EQ customization and ANC / Ambient mode level adjustment are also at your disposal.
Dedicated application "AVIOT SOUND ME"
AVIOT earphones can be customized to your personal preference with a 10-band equalizer customizable to your music preferences, an earphone detection function, and on/off and level adjustment for noise cancellation and external sound intake modes.
Earphone detection function
AVIOT SOUND ME automatically records the location where the earphones were last used. If you accidentally misplace or drop them, you can search for them from your smartphone.
To download the app, go to the official store.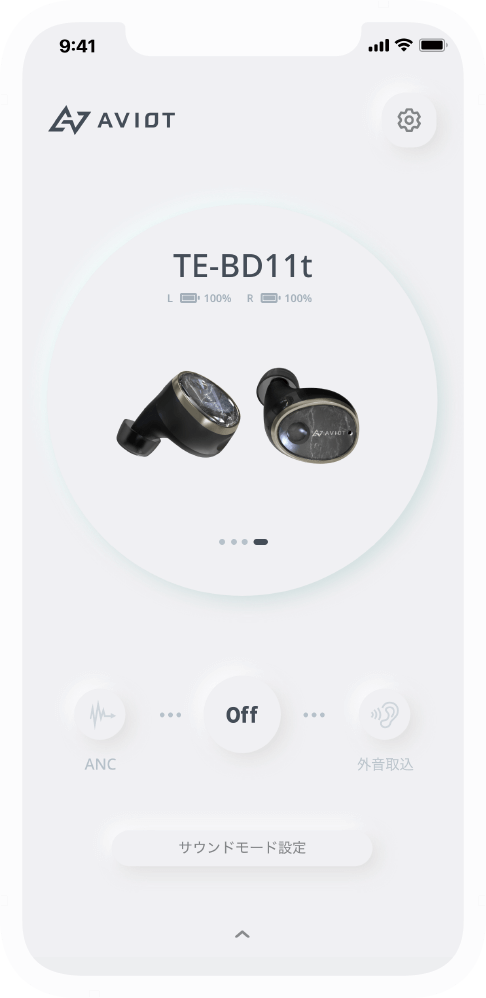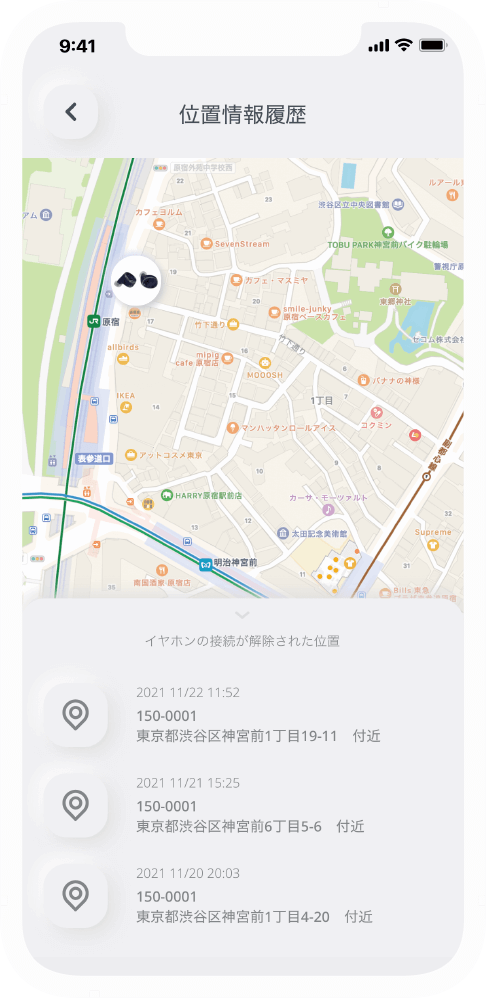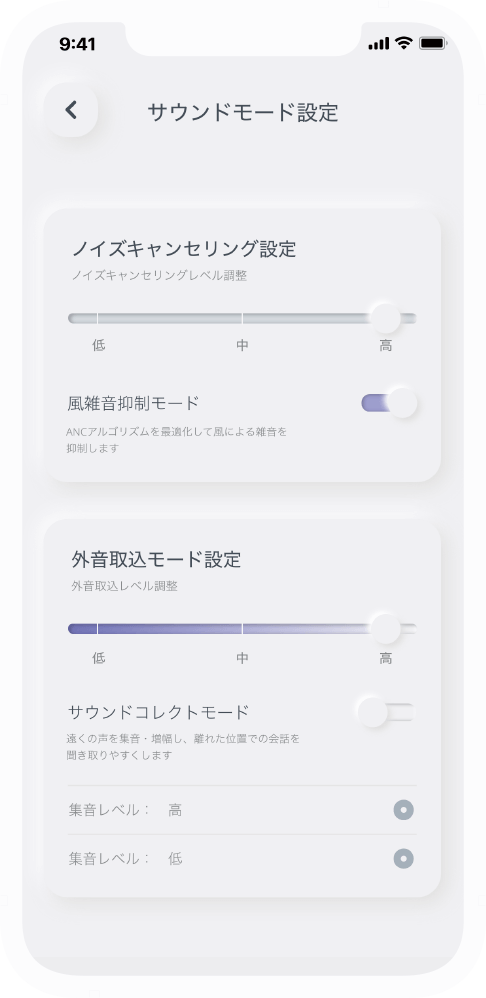 Full after-sales support
"I'm worried about losing it because it's small and has no wires..." "My charging case is broken!"
We handle various types of warranty support so that even those with such concerns can use our products with peace of mind.
If you purchased the product from an authorized retailer such as a mass retailer or an official store, we will replace the product with a new one or provide you with a replacement product only within the warranty period by registering your product information.